FOR IMMEDIATE RELEASE
Austin, Texas, United States – October 18, 2020
Virtual event to demonstrate the latest and most effective options to accelerate digital transformation
Leaders today around the world are facing new challenges to bolster and innovate during a crisis, and A2K Partners CEO Ray Wolf is offering on-the-street insights to help them evolve through the challenges, emerge in a better place, and transcend business models with practical and actionable future of work strategies. Mr. Wolf is among the industry leaders set to present at the Citrix Workspace Summit, a free, online event taking place October 22, 2020.
"Pandemic and economic downturn have forced companies to completely redesign work and the way they deliver everywhere inside their business and on to their customers and partners" said, Ray Wolf. "Businesses have an unprecedented opportunity to now move beyond air food and water and leverage groundbreaking intelligent work, people and technology models to come out of this climate stronger than ever and lock those gains into permanent memory muscle."
The Citrix Workspace Summit provides companies with targeted insights into how they can leverage innovative digital workspace technologies to unlock maximum workforce potential and fuel innovation that can move businesses forward.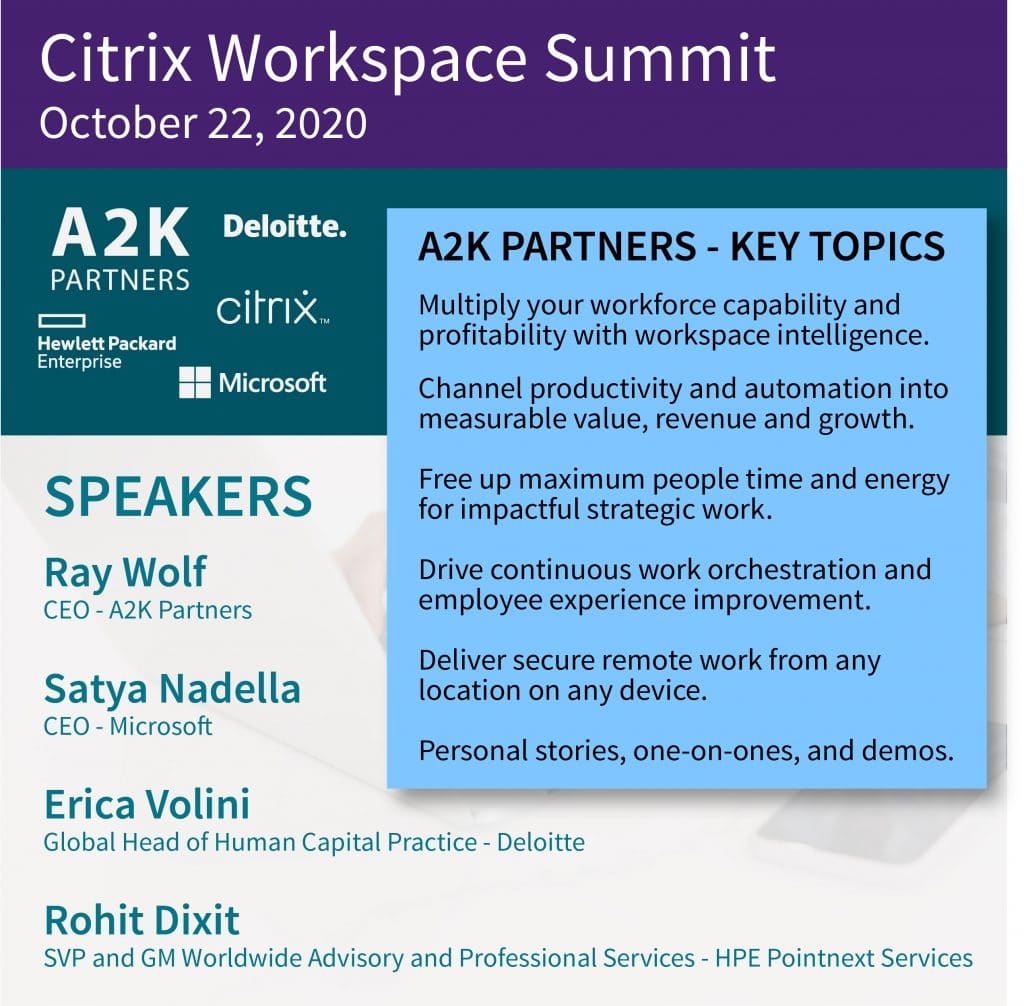 In his presentation, Wolf will discuss strategies designed to free up or recoup more than 20% of workforce time and energy along with opportunities to achieve 100x ROI through work and process redesign through new automation technologies. Other key topics to be addressed include how to:
Multiply your workforce capability and profitability with workspace intelligence
Free up maximum people time and energy for impactful strategic work
Channel productivity and automation into measurable value, revenue, and growth
Drive continuous work orchestration and employee experience improvement
Deliver secure remote work from any location on any device
"Companies have been awakened to the demand for more empowering employee experiences. We help them focus on the places that matter most to moving past survival and immediately realizing ROI." Wolf continued. "Where this traditionally starts as an IT or HR conversation, we help accelerate the conversations with other revenue critical business departments like sales, finance, revenue and procurement along with their supporting functions."
Wolf is among dozens of Citrix partners, customers and industry thought leaders who will share insights and best practices that attendees can use to accelerate their digital transformations, including:
 Satya Nadella, CEO, Microsoft
Hayden Brown, President and CEO, Upwork
Erica Volini, Global Head of Human Capital Practice, Deloitte
Rohit Dixit, Senior Vice President, HPE Pointnext
Paul Herbert, Chief Information Officer, Northcott Disability Services
Ariel Carrion, Chief Technology Officer, City National Bank of Florida
Charles Ash, Chief Information Officer, The Ohio Department of Transportation
A2K is sponsoring Citrix Converge 2020, a free, global, virtual, developer conference taking place November 2-13. Converge will feature over 70 sessions presented by technologists drawn from Citrix and its community of partners and customers. Alex Zaal, A2K's CTO of SVP Services, will present, "Cross Functional Microapp Solutions – Sales Enablement", a walkthrough of the outbound sales solution that A2K built using Citrix Workspace's microapps technology.
Steve Wilson, Citrix VP of Product Management, and executive sponsor of Converge, welcomed A2K's contributions to the microapps ecosystem, "A2K Partners is a pioneer in building the future of work. The microapps the company has created enable employees to cut out distractions and regain control and focus. Alex' Converge session is essential viewing for our developer community".
Register today to receive full access to Citrix Workspace Summit and presentations on-demand.
About A2K Partners
A2K Partners creates successful business outcomes through work redesign services and translating technologies into delivering value, revenue, and growth acceleration. They are the first and leading Citrix partner offering consulting and implementation services for Citrix Workspace with Intelligence. As the preferred Citrix Service Provider (CSP) and Citrix Solution Advisor (CSA) integrator, they offer deep implementation history, know-how and lessons learned experience stemming from delivering to Citrix enterprise clients in many industries and verticals since the inception of the product. More at a2kpartners.com
Contact Info:
Name: Brian Tucker
Email: Send Email (sales@a2kpartners.com)
Organization: A2K Partners
Address: 1203 Ashmoore Ct. Southlake, TX 76092
Phone: (512) 877-1054
Website: https://a2kpartners.com/