We transform the employee experience.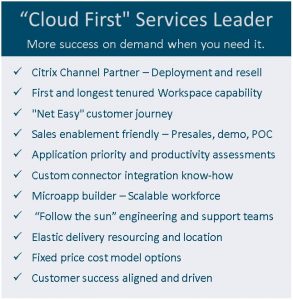 In the next few years, the demand for automated workflows and intelligent tools will continue to rise at a rapid rate. Citrix Workspace with Intelligence truly innovates to address this market by delivering a simple, consumer-like work experience that multiplies productivity, enhances the employee experience and in turn, their business.
Why us?
We are the oldest and leading Citrix partner offering consulting and implementation services for Citrix Workspace with Intelligence. We offer easy to deploy solutions with a rapid time to initial value to market that will empower SMB, Commercial, and Enterprise organizations.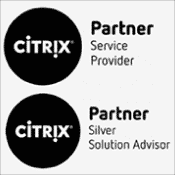 As the preferred "go-to first" integrator, we have deep implementation history, know-how and lessons learned experience stemming from delivering to Citrix enterprise clients in many industries and verticals since the inception of the Workspace with Intelligence product. Our combination of business process improvement solutions and SaaS workflow automation technologies will enable your clients to future-proof the way their customer's employees realize value through digital transformation.
Sales. Delivery. Transformational Value.
Experienced global business leaders translating technology into business outcomes.
Consulting, implementation, and managed lifecycle services
500 + SaaS solutions deployed
Industry leading "rapid time to initial value" using our proven hybrid-agile delivery methodology
End to end predictable, repeatable, and scalable deployment process across top SaaS platforms.
Texas Based > 200 Resources with 25 ready to go Micro-App Builders
Need help with driving Workspace to your customers?
To take the next step, fill out this quick form and we will have someone get back to you today.
We promise!