"HR, Talent Management & Employee Experience"
Complimentary online event sponsored by Citrix, A2K Partners & Upwork
Why Should You Attend
The single biggest indicator of business success today? Employee experience.
Research shows that companies with engaged employees are 21% more productive than those without, and have been known to maintain operating margins 3x higher than competitors.* In addition, more employees are abandoning jobs than at almost any other time in this millennium. Often, employee experience is to blame: While most executives feel they're meeting team technology needs, only 53% of employees agree.
Come learn how HR, Talent Management & Employee Experience (EX) Leaders are creating work environments where employees understand how their jobs contribute to the team's overall success. Aligning (EX) efforts with business outcomes facilitates a culture of inspired employees who feel personally invested in contributing to the firm's success and understand the role they play in making that happen.
REGISTRATION LINKS – COMPLIMENTARY ONLINE EVENTS
Tues. Nov. 17 ( 2:00pm – 3:00pm CT ) Central Region
Wed. Nov. 18 ( 1:00pm – 2:00pm PT ) West Coast
Wed. Dec. 2 ( 3:00pm – 4:00pm ET ) East Coast
Join us at this invitation-only event for a dynamic discussion among industry leaders seeking to drive better business outcomes by developing a HR, Talent Management and Employee Experience (EX) programs that attract, retain and cultivate their employees, including sales team members and remote and on-the-go employees.
Learn from these industry leaders in this dynamic virtual roundtable discussion:
The Future of Work: What it looks like for leading companies
Employee Experience: Why It Matters
How to utilize technology to create Employee Experience and drive better business outcomes
What we can learn from those getting it right
Event Chairs

Amy Haworth, Chief of Staff, Office of the EVP Human Resources and Chief People Officer | Citrix
Amy Haworth is the Chief of Staff for Human Resources at Citrix. While a Chief of Staff does a variety of things, Amy summarizes the focus of her role to be creating an outstanding employee experience for talent at Citrix. Most often this means she's leading strategic global people and organizational projects and driving change. Change is Amy's passion because change means growth. Her perspective has been cultivated through over two decades in IT helping guide tech adoption plus the past three years in Human Resources focused on what it takes to attract, retain and engage employees. Amy brings a perspective rooted in business and enhanced by a deep understanding of the psychology of human behavior.

Tim Sanders, VP of Customer Insights | Upwork Tim helps businesses implement better ways of working through the adoption of on demand talent solutions. He has more than 25 years of experience working with companies on innovation and change management. Tim began his career as an early stage member of Mark Cuban's broadcast.com and, once acquired, he became the chief solutions officer at Yahoo!. He is also the author of five books, including the New York Times bestseller, Love is the Killer App: How to Win Business and Influence Friends.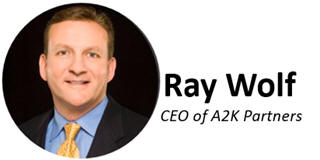 Ray Wolf, CEO | A2K Partners
With three decades of executive leadership building businesses for leading organizations that include Dell, United Technologies Broadcom. He has built world-class human capital strategies, developed cultures of innovation, synthesized complexity into actionable elements for customers across countless verticals and industries.